High Performance Flexible Scalable
Our cloud platform offers high-performance and reliable hosting for your applications, helping your business grow seamlessly.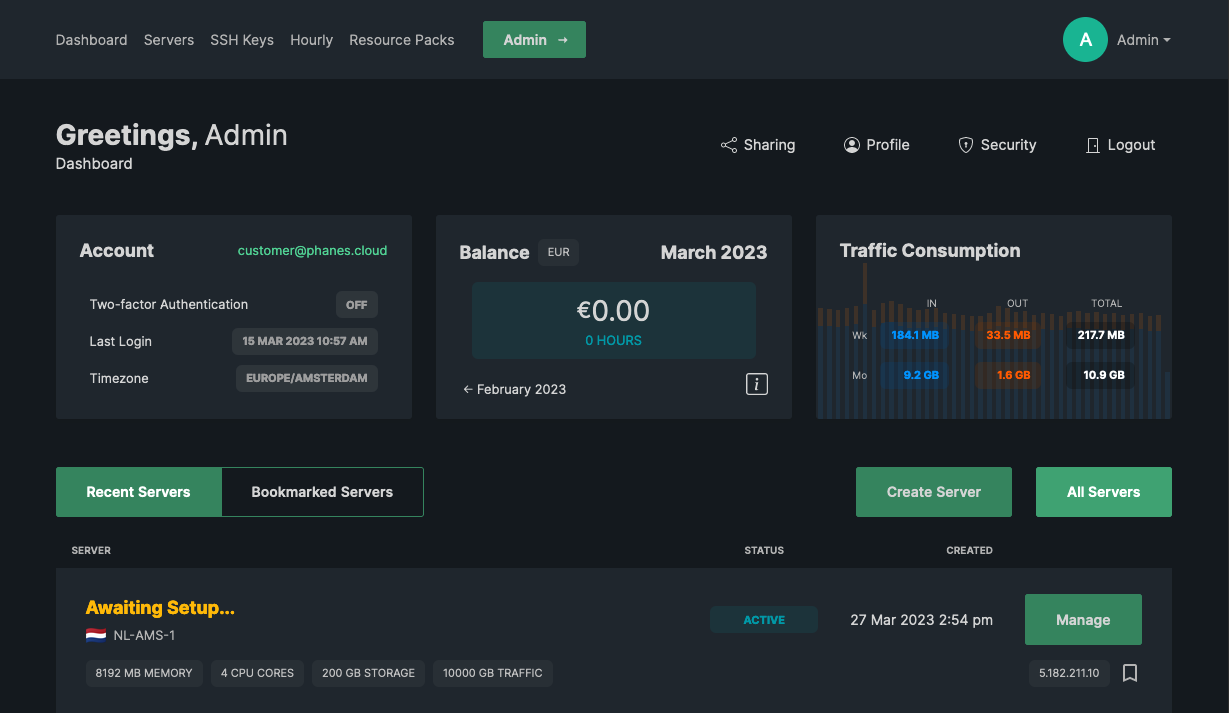 Premium Quality
Our infrastructure is located in the Netherlands across several locations. This country has one of the best internet connections in the world.

High Performance
Our servers are equipped with high-performance AMD Epyc & Ryzen and Intel Xeon processors to ensure maximum performance for your applications.

NVMe Storage
Fast loading times and high IOPS ensure that your website or application is always quick.
Our objective is to provide our clients with the most exceptional cloud services available, without compromise.
Features of Cloud Computing
KVM Virtualisation
We use KVM full kernel virtualization on our platform. This gives your server more security and performance.
99,99% Uptime
The uptime of your applications is of the highest importance. We guarantee an uptime level of 99,99%
High Speed Storage
Our servers are equipped with ultra fast (NVMe) SSD storage which ensures very fast website loading times.
Adjust resources within a few clicks
Give your server more resources like cpu, ram or disk within just a few clicks and only a reboot.
Automated OS Installations
Servers can be reinstalled via the automated OS installer. The installation status updates in real-time.
Powered by AMD Epyc & Ryzen
Your cloud instance is backed by High-Performance AMD Epyc & Ryzen CPUs giving you the best performance!
SSH Keys
Add your SSH public key and select it during installation to secure your SSH server.
Realtime Statistics
View CPU, memory, and network usage in real time from our control panel.
VNC
Control your server's screen, keyboard, and mouse with Virtual Network Computing (VNC). Useful when setting up a custom OS.
Effortlessly manage your cloud instances with our feature-rich control panel.
Frequently Asked Questions
Compute is a general term for anything that involves computer resources over the Internet, such as virtual machines. Customers can access significant amounts of computing power to run their websites, apps, and more.
Our cloud instances are virtualized with KVM on a 64-bit processor and support a wide variety of Linux and Windows operating systems.
We accept various payment methods, such as:
Debit/Credit Card (Visa, Mastercard, American Express, Discover, China UnionPay)
PayPal
Cryptocurrency
iDEAL
Alipay
Wechatpay
Yes. Cloud instances are immediately set up after ordering!
Yes you can! You can upgrade your plan any time you want via our billing area.
It depends on many factors like site traffic, CPU/RAM usage of scripts, disk and bandwidth requirements etc.
Click here to compare our different types of Cloud Services
You can upgrade or downgrade your hosting plan anytime without downtime or service interruption.
We are happy to help you choose which service is right for your use-case.
We provide our Cloud Services from our datacenters near Amsterdam, The Netherlands.
All customers are welcome to use our Cloud and adult content is allowed.
Please view our Terms of Service to see which activities are forbidden on our Cloud.
Ask Us a Question
We are happy to help you with your questions regarding our services!
We provide various types of Cloud Server lines, each designed for specific use cases.
Video encoding / streaming
Instant Deployment
Start right away after ordering.
Secure Payment
Pay with credit/debit card, PayPal, Cryptocurrency, Alipay, Wechatpay.
Flexible
Scale your cloud instance to meet your demands.